ADA & Id Signs
We Offer a Complete Solution for ADA Compliant signs and ID Signs
Our in-house capabilities from consultation and design to complete production and installation gives you a single source for required ADA Compliant Signs signs. We offer quick turnarounds and cost effective solutions for both interior and exterior applications.
COMPLIANCE
ADA Compliant Signs guide everyone in a standard format and are essential for accessibility. We custom match ADA signs for suites and rooms to fit your space and budget, from small quantities to entire building systems. Our commitment to ADA Signage Compliance ensures your spaces are up to code and looking great. Join us in our journey towards complete ADA compliance, making a difference one sign at a time.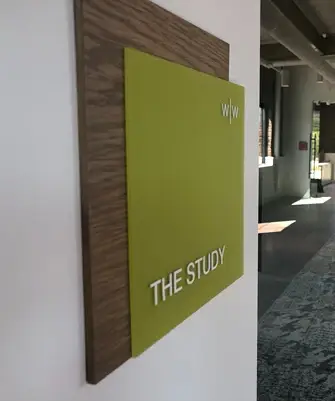 MATERIALS
Our ADA Signage Materials are selected with quality and compassion in mind. Tailored to fit your space and budget, we ensure that signs remain vibrant and accessible. Experience the excellence of materials that not only meet compliance but also enhance the aesthetics of your spaces.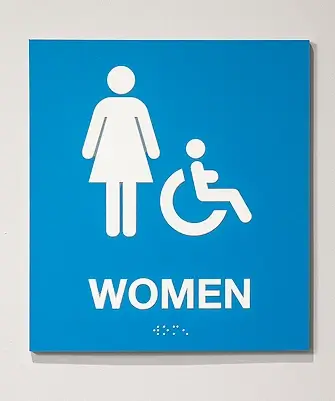 DESIGN
Inclusive ADA Signage Design is about more than compliance; it's about creating spaces that resonate with all. Our custom designs prioritize clarity and aesthetics, reflecting your unique space and budget. Discover the elegance that thoughtful design can bring to your environment.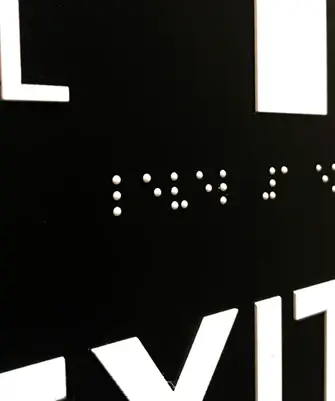 BRAILLE
ADA Braille Signage is a symbol of empowerment and accessibility. We craft Braille signs that fit seamlessly into your space, ensuring that both form and function are met. Explore solutions that go beyond compliance, fostering a sense of belonging and independence.
INSTALLATION
ADA Signage Installation is our commitment to creating welcoming spaces. We handle everything from small quantities to entire building systems, customizing the installation to your specific needs and budget. Join our mission to enhance accessibility and make your spaces not just compliant but truly inviting.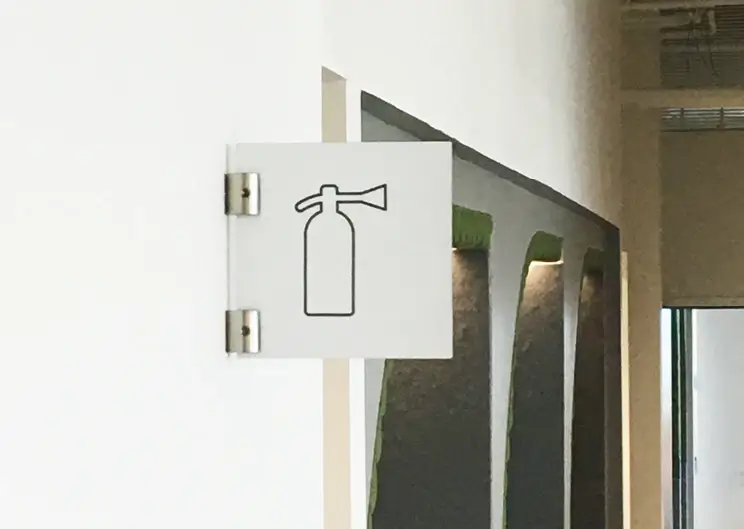 Introduced in 1990, the Americans with Disabilities Act (ADA) Standards for Accessible Design stipulate detailed signage guidelines to guarantee accessibility for all, regardless of physical abilities, in public spaces.

When it comes to ADA signage, there are several critical components to consider:
Tactile Characters: Signs that identify rooms and spaces are required to have raised characters (tactile text) that can be felt with the fingertips. These characters should be uppercase and sans serif for easy readability. The height of these characters should be between 5/8 inches and 2 inches.
Braille: Below the tactile characters, Grade 2 Braille should be included for visually impaired individuals. The Braille should be domed or rounded – not flat – for easy readability.
Contrast and Font: High contrast between the text (or symbol) and the background is necessary for clear visibility. This could mean light text on a dark background, or vice versa. The font should be simple and easy to read. Stylish or decorative fonts may look appealing, but they can be challenging to read for visually impaired individuals.
Pictograms: If a sign uses pictograms (symbols to represent a room or space, such as a restroom), the pictogram should be placed in a separate 6-inch high field with a text descriptor underneath.
Mounting Location and Height: ADA signage should be mounted on the wall adjacent to the latch side of the door. If there's no space on that side, there are several alternative options outlined in the ADA guidelines. The baseline of the tactile characters should be mounted between 48 inches at the lowest and 60 inches at the highest from the finished floor.
Non-Glare Finish: Lastly, ADA signs should have a non-glare finish. Reflective, shiny materials can cause glare and can be hard to read for individuals with vision impairments.
These guidelines are part of a larger initiative to create inclusive public spaces. By following these guidelines, businesses and public spaces can ensure accessibility for all visitors. However, these are general guidelines, and the specific requirements may vary depending on the type of facility and the nature of the sign. Therefore, it's always recommended to refer to the latest version of the ADA Standards for Accessible Design for the most accurate and detailed information which you can find in our downloadable ADA Guidelines PDF or at the ADA website
Our Projects
Check more of our work below.
Let's work together!
360 Creative Solutions Group creates and produces graphics, signage and displays, and provides all related creative, printing and installation services. Offering complete in-house capabilities from initial ideation and concepting, to production and installation.
Contact Us